[ parts: intro | 1 | 2 | 3 | 4 | 5 | 6 | 7 | 8 | 9 | 10 | 11 | 12 | 13 | 14 | 15 | 16 | 17 | 18 | 19 | 20 | 21 | 22 | 23 | 24 ]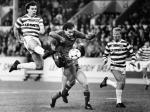 Part 17:
Spectacular Attempt On Goal
Aberdeen v Celtic, 1987
Aberdeen v Celtic, 1987 at Pittodrie:
final score, 2 all. Celtic's Brian McClair has an attempt on goal, tackled by Willie Miller of Aberdeen. Celtic's Maurice Johnston looks on.
Willie Miller became manager of Aberdeen before working in the media as a match analyst. Brian McClair was transferred to Manchester United where he was one of the longest serving players during the Alex Ferguson era. Maurice Johnston later caused one of the biggest controversies in the Scottish game when he signed for Rangers in 1989, despite appearing to be signing for their rivals Celtic.
Games between Celtic and Aberdeen in the Eighties were keenly contested affairs, with Celtic's attacking style coming up against one of the best marshalled defences in British football.
• click here for SCRAN Resource