sections:
Burns' portrait, by Taylor

The Nasmyth Portrait

Burns' portrait (from Nasmyth)

Burns at Work

Burns Travelling

Painting of Robert Burns (1759-1796)
By Alexander Nasmyth, 1787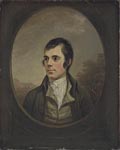 Robert Burns (1759-1796) was born in Alloway in Ayrshire, the son of a farmer who provided him with an excellent education. On the death of his father in 1784, Burns tried his hand at farming, but met with little success. While Burns considered emigration, he wrote a number of his finest poems: The Twa Dogs, The Cotter's Saturday Night, and To a Mouse all date from 1785. He hoped that by publishing his work, in the now famous Kilmarnock edition of his poems (1786), he would raise the money to establish himself in Jamaica. But such was the success of the edition that he decided to remain in Scotland and he was lionised by Edinburgh society.
It was while Burns was in Edinburgh that Alexander Nasmyth painted this portrait, now the most famous image of the poet. Introduced to each other by their mutual acquaintance and patron, Patrick Miller of Dalswinton, Burns and Nasmyth became good friends. The portrait was commissioned by the publisher William Creech, to be engraved for a new edition of Burns' poems. Apparently Nasmyth never quite completed the portrait, preferring to leave it unfinished rather than take the risk of losing his likeness.
The poetry of Robert Burns, both in Scots and English, has become an important part of Scottish national identity. His personality - democratic and generous - has also become an ideal for many Scots.
• click here for SCRAN Resource